How do you do a mock interview
"A red line has been crossed here": Mock interview between SZ and Springer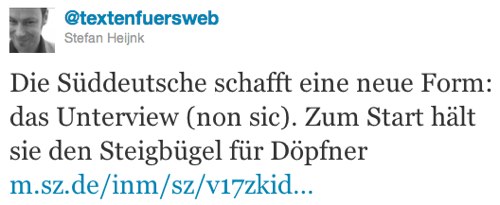 Two publishers who together suing a public network offer, interviewing each other each other. The word 'quality journalism' is used a total of six times in this conversation. Here are three of these high-quality statements from Springer boss Mathias Döpfner, which recently sounded very different ...
SZ: The Tagesschau app has been downloaded 1.7 million times so far ...

Döpfner: ... and the publishers are happy when they can announce a few thousand or even hundreds of thousands of downloads of their paid apps. It is simply a question of whether quality journalism will continue to exist as a business model.
June 25, 2011 / "A red line has been crossed here" / Sueddeutsche.de
In Germany the free culture is coming to an end. Springer has already sold 280,000 "Bild" and "Welt" apps. Considering the fact that there are only two million iPhones in this country, a considerable number. "Bild" is now the country's best-selling news app.
11/08/2010 / Springer predicts the end of the free culture on the Internet / Handelsblatt
---
SZ: Couldn't you, like all other media companies, rely more confidently on your own quality, in this case on your own, well-made or better-made apps?

Döpfner: It has nothing to do with quality. If two very good products of the same character are offered side by side, one subject to a fee and the other free of charge, then it is clear what the reader is deciding on.
June 25, 2011 / "A red line has been crossed here" / Sueddeutsche.de
Instead, the publisher says that the applications are not just a lock in front of the content, but that they are creating a completely new type of product with which they want to convince users that they can and hopefully want to do without the previous web offers without further ado.
05.11.2009 / "bild.de" and "welt.de" want to lock out the iPhone / DWDL.de
---
SZ: So far you have always been willing to compromise. Are you going to act differently now?

Döpfner: I've always tried to moderate the conflict.
June 25, 2011 / "A red line has been crossed here" / Sueddeutsche.de
"It is absurd to believe with the evangelists of the open access movement that democracy on the web can only be guaranteed if everything is free," Döpfner told "Manager Magazin": "These are absurd fantasies of late ideologically lost web -Communists. "
December 16, 2009 / Döpfner against free culture on the Internet / N24

At this point, people with an affinity for the Internet usually step in and try to point to positive examples. But I'm tired of it now. Anyone who is unable to take hold of their own nose and continues to blame unconcernedly does not deserve to be read.
Copying and pasting a DPA message has nothing to do with quality. As a student, you would get a bad grade for randomly copying without differentiation and would be sent home. Opinions and a correct selection of news are valuable. God, now I'm back to the suggestions for improvement ...
Find out for yourself. There is now new money in circulation through the App Store that users are trying to spend. It didn't exist before. Among other things, because you haven't been able to set up appropriate (payment) models. If your subscription concept is now going down the drain, it is not because of the Tagesschau app or because of the nasty readers. On the contrary: it is always your customers who try to enter into a dialogue.
And what are you doing? Do not turn on any comments, build payment barriers, program cruel apps and interview each other.