January 6th, 2020 The annual review and the planning
What was planned here again an excerpt from "January 2020 - statement of assets December 2019 - review"
Goals for 2020?
Sure, of course. We will probably not change much in terms of finances. Special repayments are saved again. Any surpluses flow to the dividend portfolio. Expenditures are put to the test, there must still be potential. Mr. Plutusandme would like to attend initial courses in options trading. Our hikes should be expanded, so slowly the first bigger meters of altitude are on our way.
Further training measures are to be carried out, whereby Ms. Plutusandme has already planned and booked all of them. Mr. Plutusandme is still undecided whether it should go more in the professional area or in the private sphere.
And ... our own oasis of wellbeing, our garden, is being expanded further.
Well, saving the special repayment has already worked. Savings installments continued to run completely unspectacularly on the ETF depot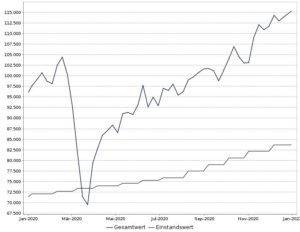 clearly the slump when COVID 19 became known. But the recovery can also be clearly seen. Savings rate in this deposit 2020: € 1,550 * 12 = € 18,600
Training only worked for Ms. Plutusandme, unfortunately not at all for Mr. Plutusandme. The company for which Mr. Plutusandme is employed stumbled too much until it was declared bankrupt. The recovery programs are running, but everyone can imagine that all employees feel uncomfortable. Despite years of preparation for an early exit, such a situation is something that nobody wants to have. So it shows once again the importance of getting out of the hamster wheel. Fam. Plutusandme has already come a long way, but there are still factors of uncertainty ... and thus goals for 2021.
The hiking went well. In 2020 we went to the Harz for another week before Covid 19 and then another long-distance hike, which was run in stages, was done.
Despite the various cuts and failures, the dividends reached a gratifying € 12,460 net and thus € 1,038 net / month. That has already gone very well.
Rent surpluses amount to € 2,887 but be careful, that was gross and it comes as it should, tax prepayment for 2021 of approx. € 2,400. In fact, we hardly generate any cash flow with the real estate, but save (due to the rather high repayment) in hidden reserves. We can or want to partially raise this in 2024.
Activities and at the own house went quite well, we would say satisfactory with potential for improvement. Another goal for 2021.
The share portfolio shows a gratifying recovery, only ... not all stocks are recovering. Oil stocks are clear, the oil price still needs something before things go back to the old rut. But an Altria, for example, is being put to the test with us. So there are 2 to 3 values ​​that we want / have to take a closer look at.
Goals for 2021:
Financially:
Savings on further special repayments
Increase in dividend to € 1,200 net / month
Starting with options trading (buying shares using options)
Find more cost reductions.
Private:
Fix 3 smaller construction sites on your own house.
Creation of a new garden area
3 long-distance hikes
We wish you all the best for 2021, continued good progress in achieving your goals
Fam. Plutusandme
Posted in General | 2 Comments