When will American tourism in Russia increase?
Russia's long shadow in Cuba
In July 2014, a report by the respected Moscow daily "Kommersant" caused a sensation, according to which Russia wanted to reactivate its "Lourdes" listening station in Cuba, only 160 kilometers from the US coast. Around 3,000 employees once worked at this largest secret listening post outside of Russia. During the Cold War, Moscow used the base to tap phone calls and radio communications in the United States. In 2001, Vladimir Putin ordered the base to be closed for financial reasons. The alleged reopening plans three years ago were seen as an expression of Moscow's increased interest in Latin America and its long-standing ally Cuba, also and especially in view of the tense relations with the West and the United States as a result of the Syria conflict and the Ukraine crisis.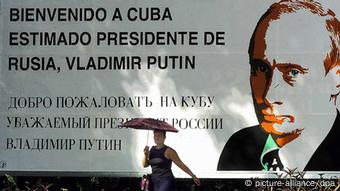 "Welcome to Cuba President Putin" poster on the streets of Havana
Although the listening station is still inactive, the current framework conditions are similar to those of summer 2014. While relations between Cuba and the USA are cooling rapidly due to the alleged "acoustic attacks" against US diplomats on the island, those with a previous partner are becoming closer again : Russia. As in Soviet times, Russia is helping out as Cuba's oil supplier. The Kremlin and the Cuban government, the Russian news agency Tass reported, agreed in mid-October to expand Russian oil deliveries and deepen cooperation on oil production on the island. In view of Venezuela's delivery problems, which are plagued by economic and political problems, the semi-state Russian energy company Rosneft jumps into the breach.
Oil industry as a pioneer
Rosneft had already committed itself in March to deliver 250,000 tons of oil and diesel to Cuba. Observers suspect that the deal is part of a triangle deal. Rosneft had loaned the Venezuelan state company PDVSA an estimated 5 billion US dollars this year and last. Future oil deliveries from PDVSA to Cuba could be offset against this.
The scenario is somewhat reminiscent of the 1970s and 1980s, when the Soviet Union was the main guarantor of Cuba's economic - and therefore political - survival. This went hand in hand with the sovietization of the country. Soviet products poured into Cuba, replacing refrigerators, televisions, and other consumer goods from the United States. In addition, more and more Ladas and Moskvichs appeared in the streets of the island. In 1972 Cuba was the only country in the so-called Third World to become a member of the Council for Mutual Economic Aid (Comecon), alongside Vietnam.
In the 1980s, the Soviet Union provided economic aid of around $ 2 billion annually; there were also around 13 million tons of oil. Cuba became more and more dependent on the Soviet Union. In 1989 the country handled 85 percent of its foreign trade through Comecon. The end of the Soviet Union and the dissolution of the Comecon hit the Caribbean island all the harder. Oil deliveries fell from 13 to 4 million tons in 1993, while imports plummeted by 75 percent. Cuba plunged into a deep and extensive economic crisis. Debt to the Soviet Union in 1991 was around $ 35 billion.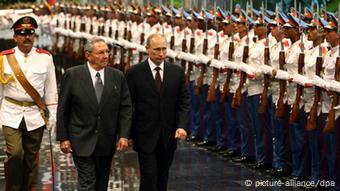 Putin in Cuba with Raul Castro in July 2104
Russia, as the successor state of the Soviet Union, canceled 90 percent of this debt in 2014. The remaining approximately 3.5 billion US dollars are to be offset with preferential conditions for Russian investments on the island. Rosneft is also supposed to modernize Cuba's largest refinery in Cienfuegos, which is currently only running at half speed due to reduced oil deliveries from Venezuela. Cuba's closest ally Venezuela has drastically reduced its oil deliveries due to the political and economic crisis there. Instead of 100,000 barrels (1 barrel = 159 liters), Caracas currently only delivers around 55,000 barrels a day to the Caribbean island. Against this background, Cuba has expanded test drilling in its Exclusive Economic Zone in the Gulf of Mexico (ZEEC-GOM) established in 1999. Russian companies are also involved.
Geostrategic Interests
Especially since Donald Trump was elected US President, diplomatic and economic contacts between Russia and Cuba have intensified. In September the two countries signed a whole package of agreements, including in the energy sector and the railways. Other agreements concern food production and the textile industry. Russia also supplies trucks, buses, locomotives and elevators.
The volume of trade between the two countries rose 73 percent to $ 176.2 million in the first half of 2017. It is still a long way from Cuba with its most important trading partners China and Venezuela, but the trend is clearly upwards. So also in tourism. Cuba expects a record 100,000 Russian tourists this year. Contacts are also increasing on the sports and cultural level.
In late 2016, Russia signed an agreement to modernize Cuba's armed forces. Reports that Russia could reopen a military base in Cuba also keep cropping up. However, that is unlikely if Havana is interested in improving relations with the United States.
However, these had deteriorated rapidly recently after US diplomats were allegedly victims of "acoustic attacks" in Cuba in the past few months. At least 22 US diplomats and their relatives experienced migraines, nausea, memory lapses and symptoms of deafness and even loss of hearing. As a result, the US government withdrew a large part of its embassy staff from Cuba a few weeks ago and expelled 15 Cuban diplomats.
While the tensions between the USA and Cuba are increasing again under Donald Trump, countries like China, Iran or Russia are stepping in as partners - as predicted by experts. "Cuba is trying to diversify its relationships," says Richard Feinberg, Latin America expert at the Brookings Institution think tank. "Since closer economic relations with the USA do not appear very likely in the coming years, alternative allies are being sought; especially strong countries such as Russia or China can offer favorable payment terms."
Russia is clearly pursuing geostrategic interests in Cuba. "Putin's message is not difficult to understand," Feinberg continued. "Putin longs to regain the imperial glory of Russia, and relations with Cuba are following this pattern."