How can I increase the readership of my blogs
Make your blog known: 4 free sources of traffic (with extra tips for beginners)
Do you want more readers for your blog? Would you like more prospects on your email list?
There are many ways to get your blog known. Some require more time, others less. A few are especially suitable for beginners, others only for advanced users.
In this article, I'll give you an overview of the four most important traffic sources and give you some tips on how you can get your blog known.
Below I will go back to the special needs of blogging beginners.
Why it is easy and difficult at the same time to attract more blog readers
Basically, getting more traffic to your blog is pretty easy because there are only four main sources of traffic. These are exactly the ones you will find in your dashboard on Google Analytics:
Direct - Direct traffic arises when someone enters the link to your blog in the address line of their browser and lands on your website immediately and without detours.
Referral - So-called "referral traffic" arises when another website links to yours, for example to one of your blog articles, and someone clicks on this link.
Organic Search - If a particularly successful article of yours appears on Google or another search engine, and someone comes across your blog about it, this is called "search traffic".
Social - These are clicks on links of your articles that come about via social networks such as Facebook, Twitter and Co.
For example, this is what my traffic distribution from October 2015 looks like: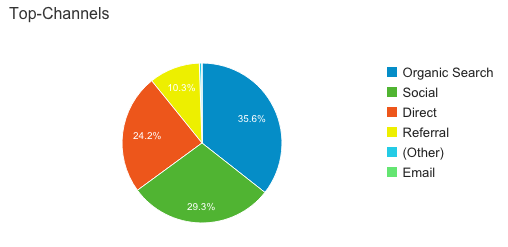 As you can see, Google Analytics also evaluates the categories "(Other)" and "Email":
"Email" means that a link in an email was clicked and visitors came to your blog.
Nobody seems to know exactly what "(Other)" contains and it is also a bit complicated. This includes, for example, clicks on links in advertisements on Facebook. Think of it as "other" - it contains everything that does not come from the other sources. If you want to know more about it, please read here.
But why is it difficult to make your blog known at the same time?
Because there are almost innumerable ways to "tap" each of the main traffic sources!
So let's get started.
How to get your blog known through direct traffic
To get more direct traffic to your blog, you can, for example, print the address of your blog on your business card. The same applies, of course, to flyers and other more similar advertising and marketing materials:
Car sticker
Advertisements in newspapers
presentations
Merchandise (give-aways)
That's why I like to speak of "analog traffic" here ;-)
Do you give lectures sometimes? Then I definitely recommend adding your branding to your presentations, which of course also includes a link to your blog. And if you send the presentation to all participants afterwards, make sure that the link can also be clicked. It's easy with Adobe Acrobat.
Do you want to know more? Bernadette has compiled a list of options for which types of access can still be hidden behind direct traffic.
How to ensure that your blog articles are linked more often (referral traffic)
If your blog articles are linked by other website operators or bloggers, this is not only good for the awareness of your blog: It also increases the authority of your blog, so that you have a better chance of ranking better on Google.
This is why links to your blog articles are so incredibly valuable - especially when they come from related sites.
So what can you do to get your blog articles linked more often? For example this:
Write high quality. Nobody links a bad article. So hopefully this tip is self-explanatory ;-)
Write relevant. Get to the point in your articles and don't digress all the time. Read your first draft again and remove unnecessary sentences and repetitions.
Write extensively. Long, detailed articles are linked more often - both from other websites and blogs, as well as in social networks. I keep seeing this in myself, but there are also studies about it.
Update your articles. About once a year you should do a content audit and revise articles that are no longer up to date. After all, it is very unlikely that someone would refer you to a blog article that contains outdated information.
Write regularly.Hardly anyone links articles on a blog on which nothing has happened for six months or more. After all, you don't want to present your readership with blogs that have fallen asleep. An editorial plan helps with regularity.
Of course, guest articles are also a great way to get links from other relevant websites and blogs. But they also do more work ;-)
You see: If you want to be linked, good articles are particularly important. Nonetheless, it is also important to build relationships with other bloggers. Only those who have you and your articles on their screen can also link your articles.
By the way, you can find specific instructions in my online course Die Blogwerkstatt.
Promote your blog with the help of Google
Sure: Search engine optimization (SEO) is a big topic that I cannot fully explain and deal with here. Nevertheless, I would be happy to give you a few basic tips on the way.
First and foremost, it's important that you write your articles for your readers primarily, not Google.
If the reading flow is lost, the readers gained through Google are quickly gone. In addition, Google will notice exactly when you try, um, to shit a little ;-) This will definitely damage you, so always be particularly careful when optimizing!
In order to rank better on Google, you need to know how to do keyword research, what a good keyword is, and how to optimize your articles for these keywords (search terms). You can learn all of this in my blog workshop, where I have created video tutorials.
Otherwise, I warmly recommend the monkey book, because it explains the whole thing very well.
It is also important that you link other blogs in your articles. You might be thinking, "How can I get my blog out there by sending my readers to other blogs? Where's the logic? "It's easy to explain: When you link to another blog, a so-called trackback is usually sent to this blog so that a link to your post appears under the blog post you linked. There is a great article on webkoma about link building with trackbacks.
Why it is great when articles of yours "only" end up on page three on Google
If you can get some of your articles on Google's first page, wonderful! You will see that readers will come to your blog about it every day. Some of them will subscribe to your email list and wham, you have a few more interested parties.
But even if articles of yours make it to page two or three on Google, that's not bad at all!
Why?
These placements will not make your blog known, because who clicks search results from page two or three on Google, right?
However, these articles have the potential to get on the first page!
You can do that in turn by linking these articles from other websites and blogs in their articles.
So here it is "stick with it" and establish relationships! It can't hurt to politely point one or the other blogger to such an article and ask them to link you if they like your article. In that case, however, your article should not explain the same content in other words, but rather provide added value. That should be clear.
By the way, Vladi from affenblog recently developed the SEO plugin banana content * for WordPress together with a fellow programmer, which I also use on my blog.
One cool feature is that the tool shows you exactly which articles for a search term are on page one on Google. If you write to these bloggers and website owners and get a link to a topic related article from you, jackpot! The whole thing is called link building, by the way.
Here you can see how the whole thing looks in banana content for one of my articles:
I will probably write a more detailed article about banana content again, because I really like the plugin :)
How to publicize your blog on social media
I claim that this is the easiest way to get more visitors to your blog.
You don't have to ask anyone to link your posts, because that happens automatically in social networks if your articles are good.
You also don't have to deal with search engine optimization to get your blog known on social media.
You just have to do what is natural for us humans: build relationships with other people.
In plain English, this means: Post relevant content on a regular basis. Pick one or two main channels and become a master of these networks!
For example, this post recently went down very well on my Facebook page. Why? Because it's relevant to my audience :)
To save time, you can automate the posting of posts with a tool like Hootsuite, Buffer, or CoSchedule.
But be careful: Just posting content is of no use as long as you don't connect with other people on social networks, make contacts, answer questions, take part in discussions or initiate discussions yourself. This part cannot and should not be automated.
In order to stand out, I recommend engaging with visual content:
Nothing attracts as much attention as an eye-catching thumbnail.Also on Facebook, but of course especially in the picture networks Instagram and Pinterest, good pictures are the be-all and end-all.
If you already have a style guide for your brand or even a corporate branding, your images and graphics should of course be "on brand" as often as possible, i.e. recognizable.
In addition to posting articles on your profiles and pages, you can of course also participate in groups and refer to one of your articles from time to time. Less is definitely more here! Some groups forbid the posting of links completely, so it is best to read the group description beforehand (before making yourself unpopular ...).
Admittedly, there is a lot to consider here. Nevertheless, the most important thing is regularity, continuity. Just like blogging.
Make blog known for beginners - 5 essential tips
Especially when you recently started a new blog, you are particularly motivated and eagerly await the influx of visitors.
There are only two problems with this:
Most bloggers do not initially have high-reach social media profiles that they can use to generate clicks.
Indexing a new website on Google can take not just weeks, but months. This means that your blog articles will not be found immediately on Google and Co.
If you have just started blogging, I have a few extra tips for you to "bridge" the first few days and weeks a little.
At the beginning you should do one thing in particular: Not only read about how you can make your blog known, but also work continuously to put the many tips and tricks into practice;) This allows you to lay a good foundation, especially in the beginning because by the time you get your first readers, you should end up having more than an article or two online.
Tip 1: write down the blog concept
Actually, you write the blog concept before you set up the blog, but it's better to be late than never! Think about what goal you want to achieve with your blog, which target group (s) your articles should address, who your competitors are and how you want to differentiate yourself from them. This is important so that you don't lose the thread later.
A blog concept also contains information about what content you want to offer on your blog. The rule of thumb here is "Better to have a few topics, but high-quality articles!" Once your blog really picks up speed, you'll be glad you wrote down your blog concept. By the way: You can of course adapt and expand the concept later if necessary.
Tip 2: write good articles regularly
If you want to get your blog known, you have to write good articles - you keep hearing that. And rightly so! Because especially at the beginning, many bloggers run out of breath after a short time - due to the low number of visitors and a low comment rate. You can avoid this by not setting your goals too high.
Of course, it would be nice if you could publish a great article every day. But if you run your blog to build an audience, fill your email list, and turn it into prospects and customers for your offers like me, you probably won't have enough time to do it. So it is better to publish an excellent article on a specific topic every two weeks and use an editorial plan. You already know: long articles are shared more often on the internet than short articles.
The topics mentioned here are all explained in detail in the blog workshop and implemented step by step.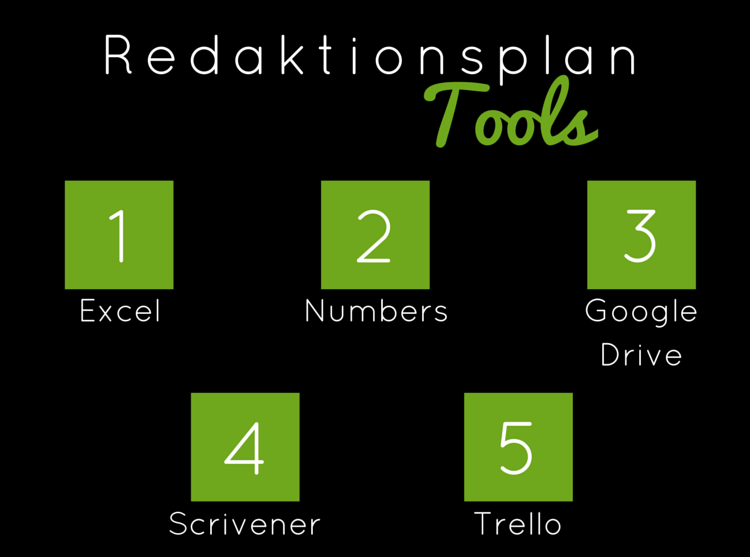 Tip 3: plan and implement a strategy for more interaction
With many young blogs, you quickly notice that the operators do not give any thought to how they want to motivate their readers to comment and share their articles. At the latest, however, when the first readers arrive, but disappear again without comment, disillusionment spreads. Why is nobody commenting on my articles? Are my items bad or boring?
Well, of course that doesn't have to be the case. But your readers need to comment motivated become. There are several strategies for doing this, such as asking questions at the end of the article for readers to answer. These questions can also be separated from the rest of the article so that they stand out more. As noted, there are many other methods here. Especially at the beginning you still have time to think about a strategy for more interaction on the blog and then to implement it - before the first visitors come.
And through lively discussions in your comments you build an audience, a community, which in turn makes your blog known. Because nothing is as sexy as a blog with oneactive Readership.
Tip 4: optimize blog design, incorporate must-have elements
When a blog is picking up speed and hundreds of visitors come in every day, every little change to the blog design can have a positive or negative impact on blog statistics. A small change to the navigation and the average visit time to the blog is reduced. That may sound like an exaggeration, but it's not uncommon! That is why you should optimize the blog design right from the start and incorporate must-have elements.
Of course you will always "tinker with" the blog, after all, that's fun. But there are certain basic elements that should be found on every blog (such as an "About (me)" page) - and in the beginning you have the time and the motivation to incorporate these basic elements and present them appropriately.
It is also essential that your future readers can subscribe to your blog via RSS. (Here Michaela explains what an RSS feed is.) Because nothing is more annoying than discovering a great blog and not finding the RSS button - definitely a good method if you have your blog Not want to make it known, that's for sure!
Tip 5: loosen up blog articles with pictures
A blog with nothing but text is daunting for many readers. However, it sometimes takes a lot of time to search for, adapt and then integrate suitable images for each blog article. Ultimately, however, the effort is worth it, because the best, most informative, most entertaining blog article is of no use if the readers jump off after the first few lines because they are put off by the supposed "dryness".
It is therefore advisable to look for image sources right at the beginning of a new blog and to come up with an image concept. This is where visual content comes into play again.
For example, I work with a featured image, but also often with screenshots to ensure the clarity of my topics. Many variants are conceivable here - but you should decide on one and then follow it through consistently. You'll be glad you did later. A good image concept can even increase the recognition value of your blog and thus your brand.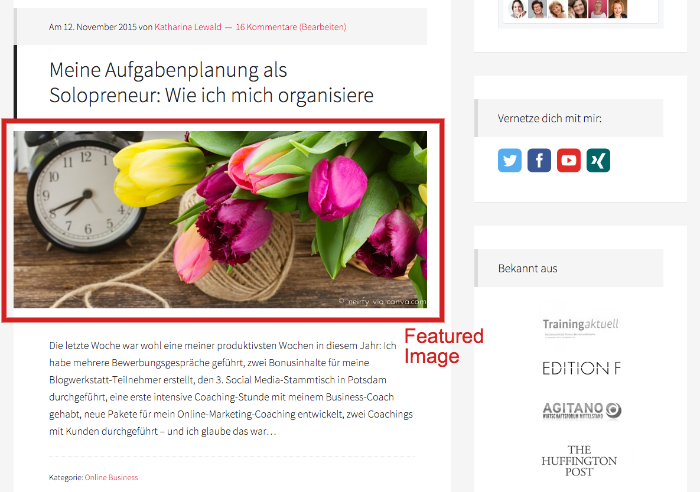 The most important last
If you want to build an audience online, attract prospects for your offer and offer digital products, online marketing is of course an absolute must.
Nevertheless, I would like you to choose exactly the strategies that suit you and your business. The ones you enjoy too! Because there are more than enough ways to get your blog known, and you don't have to (and shouldn't) choose all of them, especially not at the same time.
What are your best sources for blog visitors? How do you promote your blog? Let me know in a comment.
PS: Are you self-employed and want to successfully win customers online? Join my free Facebook group for more tips, suggestions and that extra kick of motivation!