Rose wine
What is behind the pink facade?

Some wine lovers still avoid rosé. Somehow this supposed "mixed form" of red and white wine seems suspicious to them. Are red wine and white wine actually mixed together here? For those familiar with the subject, this is an almost ridiculous question, but you always start somewhere.
How rosé wine is made
One thing in advance: As a rule - with exceptions as always - a rosé is not created by blending finished red and white wines. Rather, the winemaker wins a rosé from red grapes and there are basically only three methods of production.
1. The "maceration" method
"Maceration" means nothing else than the time at the beginning of the winemaking process when the must is in direct contact with the skins. It is not unusual for a red wine to spend two weeks in the fermentation tank with the skins to gain color and extract. With a rosé wine, however, contact with the peel is only a few hours, sometimes even minutes. The duration of the skin contact is the ridge knife for the development of the different rosé styles: the longer the must is in contact with the skin, the darker in color, but also the fuller and more intense it becomes in taste.
2. The squeeze-off method
This production method, popular in Provence, for example, requires that the must does not go into a tank together with the skins, i.e. not macerate at all. The winemaker presses the red grapes directly so that the juice only takes on a light pink color. In this way, the skins give off little color (and little aroma) to the must and it is then further vinified like a white wine.
3. The Saignée method
The French word "Saignée" literally means "bloodletting" and thus reveals something about the production process: Here too, the must and the skins are placed in a tank, where they "bleed" their color. However, the skins are not removed afterwards, but after a few hours the winemaker drains part (10-20 percent) of the rose-colored must in order to vinfect it in its own tank. The result is a comparatively dark rosé wine. The remaining must is macerated further with the skins and developed into a particularly strong and colorful red wine.
The variety of rosé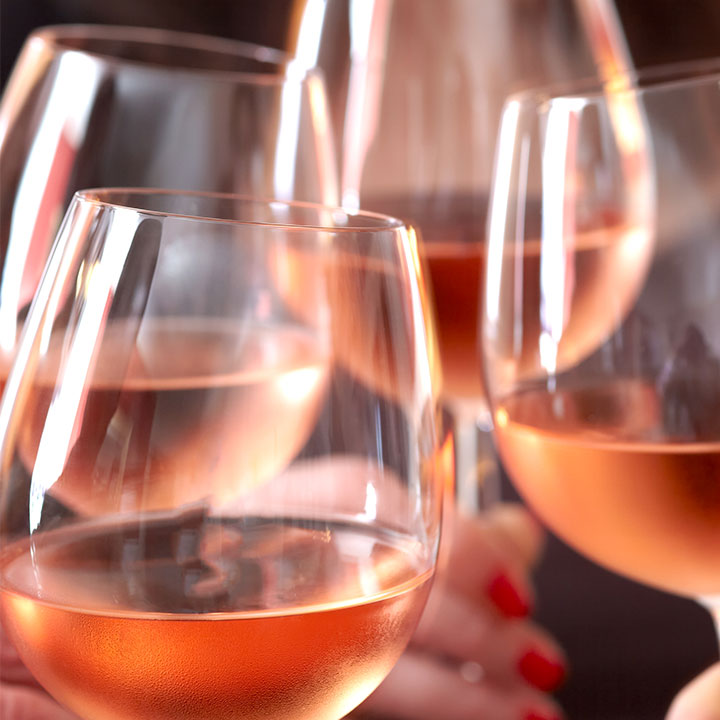 Rosé wine: a kaleidoscope of color nuances and aromas.
Of course, it is wrong to necessarily associate a rosé with residual sweetness. On the contrary, the majority of the roses are drawn onto the bottle completely dry. What was not really clear to me for a long time: the different roses create their own aromatic kaleidoscope. On the one hand, the variable duration of contact with the peel causes fruit flavors of different intensities and, on the other hand, roses are made from different grape varieties that have their own character and color. Not to mention the diverse growing areas.
In the following, I have tried a summary to outline nine typical styles and grape varieties:
Provence rosé
Style: fruity and slim.
A rosé wine from Provence is usually a fresh, tangy and fruity wine that is ideal as a versatile food companion. The typical representatives usually consist of a blend of Grenache, Cinsault, Syrah and Mourvèdre. In terms of aroma, they are most likely to be reminiscent of strawberries, watermelon and rose petals. In addition, good specimens convince with a beautiful minerality and a fine saltiness in the finish.

Our recommendation from Provence
Miraval by Jolie Pitt & Perrin
Miraval Côtes de Provence Rosé 2020
Pinot Noir Rosé
Style: fruity and fine.
The fine grape variety Pinot Noir is not often developed into a rosé wine. When it happens, well-made representatives convince with the typical earthy aromas of the grape variety, which are wonderfully accompanied by fruity hints of raspberries, strawberries and red apples.
Mourvedre Rosé
Style: fruity and floral.
The rosés from (predominantly) Mourvèdre produced in southern France are usually a bit rounder and full-bodied than other rosés. They appear wonderfully floral on the nose - especially with the impression of violets. On the palate they are usually a bit heartier and you can discover plums, cherries and dried herbs, sometimes even a slight smoky note.
Grenache rosé
Style: Aromatic, intense fruit
Even if rosé wines from Grenache can be acidic, the well-structured body results in a very good balance. Aromatically, the wines are reminiscent of overripe strawberries, orange and a little hibiscus.

Our Grenache recommendation
Sangiovese rosé
Style: fruity, bright copper red.
The Italian Rosatos are brilliant wines that smell of fresh strawberries and melons, accompanied by rose petals and a little peach. They also usually have a strong acidity and a fine bitter note in the finish, which makes the wine an excellent accompaniment to food.

Our Sangiovese recommendation
Tempranillo rosé
Style: rustic, pale pink.
Tempranillo rosados ​​are produced a lot in Rioja, but they also come from other regions of Spain. In addition to the classic strawberry notes, you will also find green pepper and herb notes here, which make it particularly enjoyable with grilled poultry. It is not uncommon for it to be blended with small pieces of Grenache or Graciano.

Our Tempranillo recommendation
Cabernet Sauvignon Rosé
Style: rustic, ruby ​​red.
These rosé wines are very often made using the Saignée method in order to keep the red wines made from the rest of the mash as concentrated as possible. Cabernet Rosé has a rather hearty aroma profile that is reminiscent of green peppers, cherry juice, black currants and pepper.

Our Cabernet Sauvignon recommendation
Rosé de Pressée Côtes de Gascogne 2020
Syrah rose
Style: rustic, dark ruby ​​red.
Rosés made from 100% Syrah are typically quite strong and have a more "masculine" character. Since these wines are also often vinified using the Saignée method, they are comparatively dark in color. On the nose there are mainly impressions of white pepper, olives, strawberries, cherries and a little peach.
Tavel Rosé (own rosé appellation on the Côtes du Rhône)
Style: rustic and full-bodied, rich scarlet red.
Tavel is the only growing area in the world that has exclusively dedicated itself to rosé wines. Higher quality wines of this appellation have a strong body, a lot of structure and a comparatively high amount of alcohol. Their character is therefore almost like red wines. It is mainly made from Grenache and Cinsault, but up to nine grape varieties are officially approved.
For an introduction to the world of rosé wines, we warmly recommend our rosé tasting package to all wine lovers, with three wonderful specimens each from Germany and France.
More on the subject:
The color of spring: rose
What did you think of the article?
4.33 stars | 33 ratings