Where can I buy stocks for free
With this trick: This is how you can buy stocks for free
The corona crisis and the phase of low interest rates are good reasons for many investors to invest in stocks right now. This is now also completely free of charge. How? You will find out in this article.
If you want to buy shares, you automatically deal with the order fees. Because there are big differences between the different banks. At house banks, for example, you pay an average of 15 to 20 euros in order fees per share purchase.
In contrast, there are now numerous online brokers who charge a significantly lower order fee. As a rule, the amount here is a few euros for each share purchase - with Trade Republic, for example, only one euro. But:
Isn't that also possible for free?
A clear answer: Yes, it works! With Smartbroker you pay nothing at all for your share purchase - with a simple trick. You just have to pay attention to two things:
The order volume: You should make a purchase for at least 500 euros.
The trading center: You should select Gettex as the trading venue.
This is what it looks like using the example of buying some Apple shares: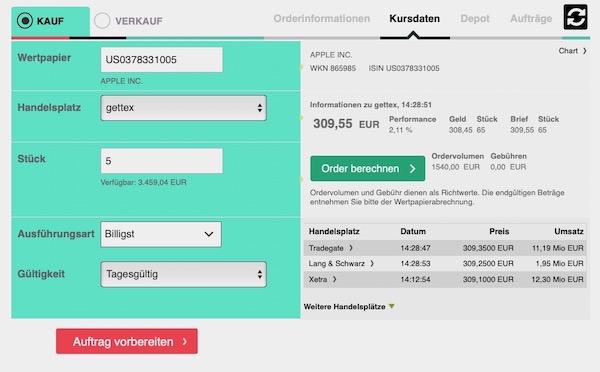 Simply select Gettex as the trading center and trade for at least 500 euros, then you will see the fees on the right: 0.00 euros.
If these two requirements are met, you can trade for free with Smartbroker. You can of course also buy shares for less than 500 euros and at other trading venues. Then you pay between one and four euros per purchase.
Conclusion: Buy shares now for free
Order fees can make all the difference, especially at the beginning. With 50 purchases per year you quickly pay 500 euros order fees with the classic brokers. With discount brokers such as Trade Republic or the smart broker mentioned here, you can reduce these costs to 50 euros - or even save them completely.
These 500 euros are better invested in a few stocks or ETF savings plans, right? If you are interested in a free portfolio with Smartbroker, you can do so here and open your portfolio within 10 minutes.
Buy stocks now for free
---
No investment recommendations. The stocks mentioned serve as examples only. This article contains affiliate links.