What is corporate forestry
New sustainability portal starts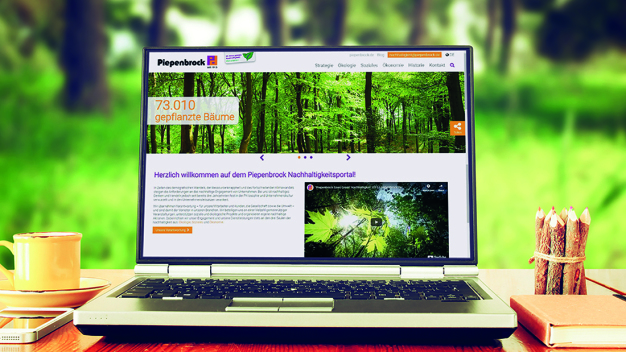 Piepenbrock publishes its new sustainability portal to coincide with the 30th anniversary of the service provider's commitment to sustainability. (Image: Piepenbrock Unternehmensgruppe GmbH + Co. KG)
The term sustainability was coined more than 300 years ago and is more relevant today than ever. The Piepenbrock Group has been dealing with this topic since 1990 - at that time the building service provider's first environmental report was published. Piepenbrock now implements a large number of ecological, economic and social projects. This year marks the 30th anniversary of this sustainable commitment.
On this occasion, the company's sustainability portal is also being relaunched. "On this portal we present our holistic sustainability management, for example our forest Rheinshagen or our cooperation with Plan International to support sponsored children in Asia. The Hartwig Piepenbrock-DZNE Prize for the promotion of research into neurodegenerative diseases is also discussed there, "reports Arnulf Piepenbrock, managing partner of the company. The website is technically up to date, adds Olaf Piepenbrock, also managing partner. In addition, the building service provider's new sustainability report will appear on the sustainability portal towards the end of the year. "For the first time, we are reporting in accordance with the guidelines of the Global Reporting Initiative (GRI), so that the report can also be compared internationally," emphasizes Arnulf Piepenbrock. "We continue to play a pioneering role in our industries."
Numerous events for the anniversary
Piepenbrock is celebrating the sustainability anniversary not only with a new web portal, but also with a variety of events, both regionally and cross-regionally - often together with customers of the company. "Together with our clients, we plant trees, make nesting boxes or set up beehives," reports Olaf Piepenbrock. At the same time, the ten-year partnership with Plan International and the ten-year anniversary of the Aktion Growth will be celebrated. "For new orders and order extensions, we plant trees in the company forest on behalf of our customers," says Arnulf Piepenbrock, explaining the background to the campaign. The highlight of the anniversary year is the large event in the Rheinshagen corporate forest in September together with business partners, employees and guests of honor, including a large anniversary planting. "Our sustainable commitment is very important to us, because as a family company we think in terms of generations. We would like to maintain a livable environment and biological diversity in the future too, "the managing partners make clear.