What is the most difficult exercise for you
Tennis exercises for difficult situations!
Pay attention, you have never exercised like this! Or have you ever purposely knocked balls out of the way? Or pull fore and backhand while standing on one leg? We present these two and five other tennis exercises to you. The background: You learn to solve difficult situations. And you improve your coordination at the same time.
Expert: Nic Marschand, photos: Oliver Hardt, graphics: Jochen Schäfers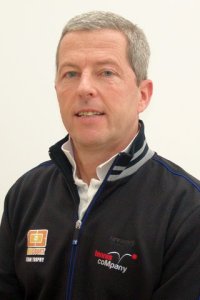 Our expert: Nic Marschand used to train Michael Stich and Barbara Rittner, among others. Today he heads the tennis company at three locations.
Admittedly, a forehand on one leg looks a bit strange and will make some viewers smile. If you then no longer serve from the baseline, but from the middle of the field, many of your club mates will probably shake their heads in confusion. And at the latest, when you hit the balls so hard that they land incessantly behind the opponent's baseline, your colleagues on the side courts will look at you pityingly and ask whether you have not yet understood the game correctly.
Don't think about it - and just keep training. Because: The exercises that we introduce to you on the following pages have a terrific effect.
"In this way you learn to train the interaction of head and body. This training is the opposite of the classic repetition method, "explains Nic Marschand. He previously looked after Michael Stich and Barbara Rittner on the tour, among others, and often uses so-called differentiated training in his academy, the tennis company. However: not in every training session. If you are on the field three times a week, you should train in this form at most once.
tennis MAGAZIN is visiting Marschand in Berlin. The 54-year-old has already prepared the court. There are countless place markings, mats, hats and medicine balls on the side. Two teenagers fight each other. Grace, 17, who plays for Rot-Weiß Berlin in the women's second division, and Ammar, 14, one of the best youngsters from the capital. Both train regularly with Marschand - today they are test subjects for our story. They don't care that some exercises look strange - they already know the training.
1) Warm-up with variety
First you start with a classic warm-up. Running a few laps, jumping rope and stabilization exercises. You then set up two stations on the court. One consists of two poles about five feet apart. For the second station, set up three cones in a triangle that are connected to each other by rods. At station one, you simulate the forehand and backhand movements with a medicine ball in your hand (see photos). You walk around the bars in the shape of a figure eight. Vary between sidesteps and cross steps. The training effect: you strengthen your core, hips and legs. At station two you improve your footwork. Your task: Move into and out of the triangle with small, quick steps - alternately to the left, to the right and to the back (left foot in, right foot in, left foot out, right foot out, etc.). Outside the triangle, you simulate forehand and backhand movements. The effect: you improve the coordination and frequency of the legs. Practical tip: Complete the units alternately at both stations - a total of five to ten sets of 20 seconds each.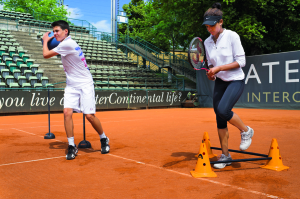 SMOOTH FEET, STRONG HULL: The warm-up program includes all areas that are important for playing tennis.
EFFECTIVE: How to improve footwork and coordination.
1
2
3
4
5
6
7
Further
---
---
---