Can I choose blogging as a career?
Self-employed with a blog: How the career bible became what it is
Home
»
Self-employed »
Self-employed with a blog: How the career bible became what it is
What began as a book marketing idea is now a small company with a small editorial team and permanent authors: I've been writing the career bible since 2007 - a blog about studying, applying, working life, everyday psychology, social media and online reputation. It made me professionally independent. And it shows: You can make a living from blogging. However, it takes a lot of hard work, perseverance and the willingness to risk money and invest ...
➠ Content: This is what awaits you
How everything began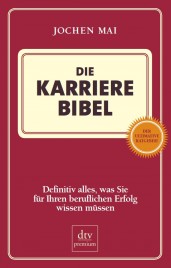 That was a good ten years ago. Back when I started blogging, Facebook, Twitter and Youtube didn't exist. Let alone Google+. There were only blog hosts like blogspot.com, blog.de, 20six.de, twoday.net or myblog.de. Everyone could register with a few clicks and start typing, stuff often, often anonymously. It was the pioneering years of the blog, in which cat content was not yet a concept, but the personal sensitivities the individual size and the "tail comparison" the official yardstick for success. For some, anyway.
At the time, many experimented wildly - with texts, with real revelations and false revelations, with real and would-be scandals. And with different roles. I admit I was one of them too. I was even a woman once. And evidently so convincingly that I have known since that time and from fan mail: Men are really pigs. At least some of them.
At some point I was working on my first book, the "Career Bible". Writing was and is my great passion, but unfortunately it sometimes also creates suffering. Especially if you are already writing in your full-time job as a journalist and then continue to write and write and write in the evening ... sometimes until 1am.
There were of course more career guides than the world ever needs. But that was exactly my idea: Why browse through all the 15 meters of successful prose that I had to read professionally in around ten years of WirtschaftsWoche, when the respective essence could be summarized on one or a maximum of two pages? So I wrote the book for almost a year, distilled, extracted and compressed - and thanks to blogging I quickly came up with the idea of ​​writing down the vade mecum in diary form: dates instead of page numbers, a book like a blog.
After the thought, it was only a reverse conclusion to take the book marketing into your own hands - via blog about the book. The hour of birth of karrierebibel.de.
In my blogging adolescence I had learned that a blog like this needs around 1000 readers a day so that it attracts enough attention and maybe also can make a difference in the book market. Because book publishers fortunately have lead times in which even Berlin airports can build, I took six months to set up karrierebibel.de, the six months before the book was published.
The book was finished by then, of course, but I went on writing, blogging at least one article every day, commenting on others, linking them, quoting them and attracting attention. The number of readers increased.
➠ Content: This is what awaits you
Design or not be
And I invested. 1500 euros in my first blog design. Back then, a lot of money for such newfangled blogging.
And I published under my own domain, no longer with a blog host. It shouldn't be an off-the-peg blog, but unique, distinctive, technically state-of-the-art and equipped with all the important functions and tools.
In 2007, only a few US blogs and a handful of German bloggers had the three-column sentence with two narrow sidebars on the edge. By the way, the dominant color back then: red.
I am convinced that the design contributed a lot to the fact that the site became popular faster than expected. In any case, at the start of the book, Google Analytics was already reading more than 1200 readers a day. Sure, I was very proud of it.
The blog becomes independent
The book actually became a bestseller (PDF), which was much more surprising: the blog grew faster and further than expected. 2500 readers after one year, 3500 at the end of 2008. I meanwhile wrote two articles a day, either early in the morning with the first coffee of the day or after work, between 8 and 11 pm - that's how I wrote my book.
I was able to pre-date the blog articles in WordPress to the next day so that they went online automatically. But I also prescribed quite a few of them on weekends. Sometimes I spent five to six hours at the computer.
Saturday in particular now belonged to the blog: on the weekends, series, podcasts, blog parades and video interviews were created, all about the same question: "What does success mean for you?".
But at some point I got tired of my own blog. I found my layout boring, outdated and many US blogs much more modern, fresher, more innovative. I myself missed the bling-bling on the side, in short: I felt like a change of scenery.
At the re: publica I got to know Hannes Kunstreich, a very talented graphic artist. He loved the career bible, I loved his blog ideas. They were quite daring at the time: a three-column magazine layout, not a real header, but a logo block equipped with many functions. Videos firmly on the start page. Best-of lists for each category. A footer in the spirit of reader communication: comments, contact form, and later also tweets. There has never been such a design anywhere.
I invested again, this time significantly more money, and in November the time had come: Career Bible 2.0 appeared with a radical relaunch. Oh, and it got its current color: fresh blue with a hint of green.
In the meantime almost 1000 articles had appeared in six categories, there were well over 2000 RSS subscribers and a good 160,000 readers per month.
After the relaunch, however, the site made one move: the number of hits rose rapidly, and readers stayed on the site longer. But what was more important: They increasingly shared the content. It was the innovations of the social web that I immediately tried out, implemented for the blog and immediately re-blogged the experiences and tips (by the way, we still do that today, we openly pass on our knowledge): Career bible was now on Twitter , on Facebook, on Youtube. And we were one of the first blogs in Germany to have our own iPhone app.
Change as a constant for success
Further experiments followed: In 2009 I developed a career newsletter with friends, which we discontinued after a year. 1000 subscribers were great, but not enough for the hassle each week.
For this, my second book was published - "The Everyday Office Bible". I researched it live on the blog for a year. So writing was much easier and faster. Another advantage of blogging.
There were also author competitions and our job exchange.
The site was now read by around 10,000 people a day and another 4,000 subscribers via RSS feed. Oh yes, in 2010 there was also support in the form of the first paid interns. Since then there have been a total of six, one of them - Christian Müller - is now a permanent freelance editor of the career bible and has become a good friend of mine.
Nevertheless, what had to come came: In mid-2011 I was tired of layout number 2 again. It no longer suited the networked social media presence, the database became too complex (more than 1000 articles appeared per year), and the homepage overflowed. The blog had long since become a portal and a small company - with running costs for admin, server, authors, images, but for the first time also income from banner advertising.
Before that, by the way, I had paid all the costs out of my own private pocket. Apart from the time invested.
I said to myself: if you don't keep up with the times, you keep up with the times. So I invested a few thousand euros again in what is now the third design, today's career bible, which went live at the end of 2011.
Again, the relaunch was accompanied by innovations on the side: a weekly labor law column, the employer check, my third book and an e-book (PDF) that many readers had taken part in: the wisdom of success in seven words.
The result today is almost 500,000 visits a month and a little more than 930,000 PIs. Because of this, we had to move to our own server (our own sheet metal deck), which also helped the loading times very well.
Is blogging worth it?
Definitely - and not just in monetary terms. Numerous readers have personally emailed me in recent years that they have mastered their application and got a job thanks to the blog articles and tips. That totally builds up.
I know from others that we were able to give them help in setting up their own websites and blogs, and that we have in part inspired them. I've made a lot of new friends through blogging, and some of them have even become really good friends.
Thanks to Twitter and the other networks, there is hardly a city in Germany today where I cannot spontaneously meet someone I know for coffee. A network that I haven't built in 20 years of journalism.
And I still wonder today how this blogging was able to become a profitable company with a daily reach of around 50,000 people on all social media channels in just under seven years. That's crazy. As crazy as some haters, who of course are always available on the net. But they serve as a useful indicator of success: no hatred, no reach.
Most striking, however, is that the initial blogging became a profession. After 13 years at Wiwo and 20 years as a photographer and journalist, I switched to business in 2011 and became a social media manager. A job that didn't exist a few years ago. Today I am even self-employed in this area. Among other things, I advise companies on how to set up successful corporate blogs themselves.
Has blogging changed my life?
But hello! As I said, thanks to blogging, I am now professionally independent. At the same time, it is no longer so easy to say what my job is: Consultant? Blogger? Author? Keynote speaker? Lecturer? Entrepreneur? Somehow everything is right.
My family has long since got used to the fact that I watch the news in the morning, read feeds at the same time, pull out my first tweets and maybe even pre-blog.
Even in the evening, the telly stays cold more often. For this I sit comfortably on the couch, the laptop on my lap, iPad as a second screen next to it (for monitoring) and if I find something interesting or an idea comes up, I blog, plus, tweet, pin or facebook.
At the weekend, on the other hand, we regularly vote in the editorial team. We make the thematic plans for the next week, polish headings and learn from the numbers and reactions of the past week.
It all sounds like a lot of work, but it's not all that wild and is now done quickly by hand. A couple of hours a week. That's nothing more. This is also one of the effects of blogging: you get faster over time. Something that I'm sure many bloggers can confirm.
What else did I learn?
There are no patent remedies for successful blogging, at most a few noticeable correlations. As already said: I find modern design very important, basic knowledge of SEO and SEM are certainly also part of it today and above all interesting and relevant content in an attractive, perhaps even lucrative niche.
But if you really want to grow with your blog, you should think entrepreneurially. In other words: You not only have to invest time, but sometimes also invest your own money. Sure, you can also hope that such a blog will grow organically over time. In most cases this happens, but much more slowly. Conversely, there is no guarantee of success, but how does it really say: no good, no glory!
Innovations are just as important as investments. There are now so many good blogs on the net - so in order to stand out, you always have to dare and try something out. Last but not least, to stay interesting and talked about.
It doesn't have to happen every week, but two or three highlights a year don't hurt.
How it goes on?
Well, I'm afraid that after two years there will be another relaunch in the house. I need this variety.
And that is perhaps the best recipe for success ever:
If blogging is not a pleasure or passion for you, then you better leave it ...

[Photo credit: career bible]