What is the Hawaiian independence movement about
Independence Aspirations in Hawaii: Aloha for Freedom
For Americans, Hawaii is a vacation paradise. Not for Bumpy Kanahele: The indigenous peoples founded the "Nation of Hawaii". He's not the only separatist.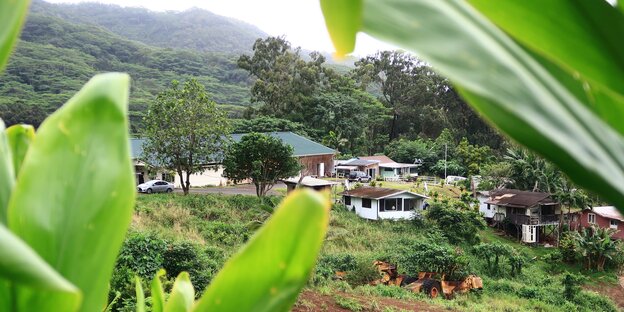 Wooden houses between banana trees: the "Nation of Hawaii" Photo: Katharina Thalmann
HAWAIItaz | By the time Bumpy Kanahele climbs the hill, he is almost free. The "Nation of Hawaii" stretches out at his feet, consisting of a dozen wooden houses, a ballroom and a chain link fence that runs around the site. Thanks to spring water, banana trees and sweet potato beds, the residents can almost take care of themselves. This humid, evergreen jungle camp even has its own sewage system. Only the most important thing is still missing from the inhabitants of the "nation": their own state.
Politically, this goal may be a long way off. But here, in the forests east of Honolulu, between dog pens, "Free Hawaii" banners and cannibalized cars, Kanahele's word is already law. The 63-year-old activist used to be a golfer. "I've always had problems with authorities," says Kanahele, even if he looks more like a nice uncle in a T-shirt and shorts who is just taking a walk on the beach. But his gaze is hard, his words are serious: "We live in an occupied country - a country in which our people are being wiped out."
Most Americans are unfamiliar with this point of view. You know Hawaii as a vacation destination and place of longing, a paradise of palm trees, surfing waves and eternal sunshine. The archipelago, which is 4,000 kilometers from the mainland, also plays an important strategic role. Thousands of American soldiers are stationed in Hawaii. The US Pacific fleet is anchored in the naval port of Pearl Harbor - the target of a devastating Japanese aircraft attack in 1941, today a symbol of American patriotism, perseverance and willingness to make sacrifices in the name of the fatherland.
But some indigenous people like Kanahele have a different point of view. For them, Americans are primarily intruders who build military bases, dump remains of ammunition in the sea and target Hawaii should the conflict with North Korea escalate. "All Americans do is raise taxes and drive capitalism," Kanahele grumbles. He quickly adds: "We are not anti-American. We're just not American. "
State of the USA only since 1959
In fact, there are astonishingly many similarities between the "natives" in Hawaii and the Native Americans on the mainland. The white man brought them one thing above all else: trouble. Starting with the British navigator James Cook, who strained the hospitality of the islanders so much that he was lynched in the end. This was followed by the overthrow of the Hawaiian royal family by American plantation owners in 1893 and the inglorious annexation of the country - an injustice for which US President Bill Clinton apologized decades later. Hawaii has only been the 50th state in the USA since 1959.
Bumpy Kanahele, "Nation of Hawaii"
"We are not anti-American. We are just not American "
Most Hawaiians have come to terms with their story by now. Not so Bumpy Kanahele. And this stubbornness is obviously paying off. The Hawaiian state government leases the 20 hectare site on which his "nation" is located. "The cops leave us alone," says Kanahele, "because they know we're doing something good." To confirm this, he points to two large family tents in which camping furniture and mattresses are piled. "This is where homeless people live who previously camped on the beach. We accepted them because they are citizens of our nation. And it won't be the last. "
But the "nation" is still manageable. So far, only about 80 people live on the site. The head of state also lives a few houses down the street. "But we have big plans," says Kanahele. Your own school, your own hospital, your own bank. Currently, however, medical care extends to a greenhouse full of cannabis, which the residents use "as a natural remedy". "We have even cured cancer with it," claims Kanahele, who explains many things spiritually or traditionally. So did his own government. He was not democratically elected, instead appointed by inheritance law. "My ancestors were kings," says Kanahele. "I have that inside of me."
In everyday life, however, the lofty goals sometimes have to take a back seat. Most activists have jobs outside the nation; older residents receive a state pension. "Some see this as a contradiction," says Kanahele. "But that's rubbish. The government has exploited us for so long - it owes us money, and we should take it. "In general, the contradictions: By no means all separatists follow the same goal as the" nation ". There are countless groups in Hawaii: some want to restore the monarchy, others a parliamentary democracy. And still others exist only as Facebook groups that poke at colonialist whites ("Haole, go home!").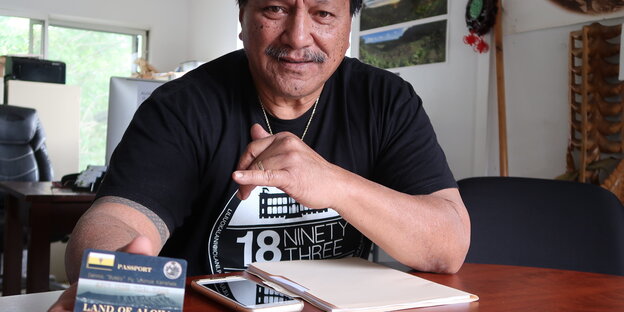 Independence activist Bumpy Kanahele with his self-produced identity card Photo: Katharina Thalmann
The royal chicken grill
On Kauai, the greenest and rainiest island in Hawaii, an elderly man is selling chicken on the side of the road. The posters and flags next to the grill don't just advertise the snack. Customers should also let the idea of ​​a free Hawaii melt in their mouths. Keohokui Kauihana, the grill master, gets straight to the point. "Every Hawaiian is obliged to follow our queen," he says, referring to the overthrown monarchy of 1893. "But most of them run after the Americans, even though they are war criminals."
What is he doing about it? Protest and grill chicken. And don't pay taxes for it. Kauihana does not have a permit for its stand, at least not an official one. "The kingdom issued me a sales license," he says, "that's enough for me." The 64-year-old thinks little of other groups like the "Nation". They are too soft, too willing to compromise, have comfortably set up behind their flag-hung fences. "These are puppets," says Kauihana, "just like Trump is a corporate puppet." The government does not even manage to curb armed violence. "But they want to tell us how we have to live."
The passionate takeaway seller doesn't want to say more. "But there is someone here who will explain everything to you in your language," he says, pointing to the tent next to the grill. Inside, on a plastic chair, sits Susanne Gottschalk. The 57-year-old German has lived in Hawaii for over twenty years. She originally came to the archipelago with her ex-husband, a US soldier. During information evenings she discovered her interest in the independence movement. "For me it's a question of morals," says Gottschalk. "As an immigrant, I can't work against the natives as well."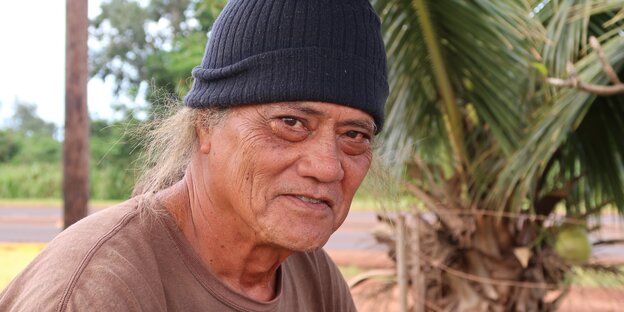 For the queen: Keohokui Kauihana chicken roaster Photo: Katharina Thalmann
The German who fights alongside the indigenous peoples
So together with Kauihana she is involved in a group called "Lawful Hawaiian Government", including an annual legislative assembly. "The Americans don't take us seriously," says Gottschalk, "but I believe in our success. International law is on our side. "Of course, not all locals see it that way, especially when the loudest plea for an independent Hawaii comes from a newcomer. She has already been insulted several times as "fucking haole", as a stupid white, says Gottschalk. "Then I answer: someone has to fight for your cause if you don't do it yourself."
In the meantime, Bumpy Kanahele talks about his latest project in the "Nation of Hawaii". In order to become financially independent, he and his colleagues launched a crypto currency, the "Aloha Coin". "We're like Wakanda," says Kanahele and laughs. In the movie "Black Panther", Wakanda is a technologically far superior African state that is underestimated by the outside world. "We may even be lucky at the moment," adds Kanahele. "Obama talked a lot, but achieved nothing. But Trump? He's so crazy that he might really leave our country to us, just like that. "
One can smile at such sayings. About the leader who rules an empire that grows cannabis and sweet potatoes. About the chicken seller who evangelizes customers at the grill stand. About the German who wants to tell the locals what is best for them. And yet the matter is more serious than it seems at first glance.
To say goodbye, Bumpy Kanahele takes out his cell phone. He opens a photo showing the United Nations Chamber in New York. Guest speaker on the microphone: Kanahele's nephew Brandon, who addresses the Committee on Indigenous Peoples. "He's not sitting there as an American, but as a representative of a sovereign state," says Kanahele, and his eyes light up with pride. Soon the majority of the islanders will see it that way - united under his rule, in the "Nation of Hawaii".