iOS 6.1 Update - Features and innovations of iOS6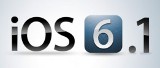 Apple Ltd. has the iOS operating system for mobile devices updated to version 6.1. The iOS update expands the LTE support of Apple handhelds by 36 additional iPhone carriers and 23 additional iPad carriers worldwide. This means that even more iPhone 5, iPad mini and iPad users can now use the faster data transfer rates of LTE technology for their purposes. At the same time as the update, the Californians are also introducing the new development environment, XCode Version 4.6 for iOS programmers ...
new iOS -> new Xcode!
At the same time as the update, the Californians are also making the new development environment, XCode Version 4.6, available for iOS programmers. The iOS update can be downloaded from the Mac App Store or via the update manager. iOS 6.1 is now available as a free software update. iOS 6.1 is compatible with iPhone 5, iPhone 4S, iPhone 4, iPhone 3GS, iPad (third and fourth generation), iPad mini, iPad 2 and iPod touch (fourth and fifth generation).
new features for the new world!
The new iOS 6.1 is here - but unfortunately the German iPhone and iPad users get very little of it. An update to Apple's current operating system is worthwhile especially for American users: The new features of iOS-6 include Siri, with support for additional languages, easy access to sports results, restaurant recommendations and cinema programs; the map app with cartography in Apple design, turn-by-turn navigation and flyover view; Facebook integration for contacts and calendar with the ability to post directly from Notification Center, Siri and Facebook-enabled apps; shared photo streams via iCloud; and Passbook.
For the German Apple fans there are 2 (!) innovations: A button for resetting the ad ID on Apple's advertising network. In addition, iTunes Match subscribers can now download individual songs from iCloud to their iOS device again. The eagerly awaited new features and improvements of Apple Maps, on the other hand, are not found.
Good for the confederates
However, iPhone and iPad owners should really enjoy themselves in Switzerland come up! With the new iOS 6.1, the ultra-fast LTE is now also available for them. In Germany, high-speed data throughput is limited to the 1800 MHz frequency band operated by Telekom.
Log in to join the discussion