Which fictional government is the worst
Fictional speech by the Chancellor: New start in Germany
When the corona crisis is over, Chancellor Merkel will address the German citizens again. Here's a suggestion.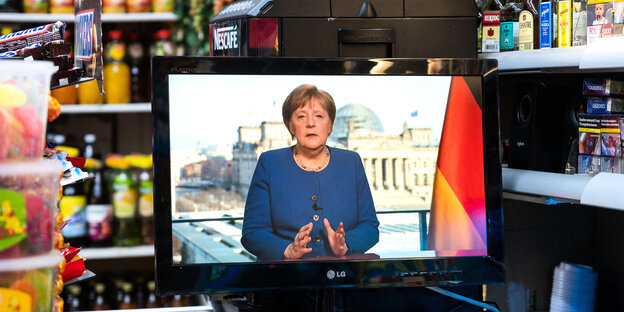 Everyone is cordially invited to restart Germany Photo: Christophe Gateau / dpa
Dear fellow citizens, today I turn to you to share the joy that we have together overcome the worst effects of the corona crisis. I would like to thank all of the helpers from the bottom of my heart, especially those from the healthcare sector!
In those days we all became painfully aware that health is one of the highest values. Our health care has not always done justice to this in the last few weeks. We had a lot of intensive care beds, but not enough nurses. The privatization of the health care system, the standardized billing according to case groups, the overloading of nursing staff with poor pay at the same time - none of this was a good idea.
Before 1985 it was forbidden by law, to make a profit in clinics. Don't we have to go back there? We need hospitals that operate according to criteria of the common good and pay staff humanely. We have enough nurses in the country - but most of them have changed jobs because of poor conditions. It is now our duty to win them back.
Today we mourn the deaths caused by the virus and we sympathize with the loved ones. However, we as the Federal Government also have to ask ourselves whether further deaths were and are avoidable: the 25,000 or so deaths caused by the flu every year, the 33,000 people who succumb to multi-resistant germs, the 4,000 road fatalities per year, the 10,000 heat fatalities in the summer of the drought 2018. The climate crisis has also made it more likely that we will experience malaria, dengue or nile fever pandemics in the future. We owe it to everyone that we take the same steps here.
The federal government therefore wants to localize clinics and retirement homes, train nursing staff better, pay them and burden them less. The cruel and dangerous factory farming as the main source of multi-resistant germs is prohibited. Farmers who convert stables to make them animal-friendly receive support. EU agricultural subsidies mainly go to those who work without pesticides and artificial fertilizers.
Protection of the climate and species is becoming the top priority so that we can all ensure our survival and not experience another pandemic. Cities and transport systems need a complete overhaul, and you, dear fellow citizens, have a greater say in this. Representative drawn citizens' councils, which act free of lobby, party and self-interest, will collect the most effective measures at federal, state and local level.
Before 1985 it was forbidden by law, to make a profit in clinics. Don't we have to go back there?
The eco-social restart of our economy should no longer be based on the abstract gross national product, but on the well-being of everyone. We don't want to repeat the mistake of 2008: Back then we rescued banks, but left unhealthy and anti-climate infrastructures unchanged. This time, however, we feel that it is not a good idea to be dependent on long supply chains, on medicines and parts from China. We need glocalization, a crisis-proof relocalization of the economy with repair-friendly goods. This saves greenhouse gases and creates meaningful jobs on site.
The federal government has already taken billions in hand to help companies. But we don't want to distribute loans and emergency aid by watering can, but as an aid to eco-social restructuring. An unconditional basic income should benefit all self-employed people. The aircraft, cruise and auto industries should only receive subsidies if they switch to climate-friendly mobility. The number of allowed take-offs and landings at airports is frozen.
The new Berlin airport BER is unnecessary, a modern indoor golf course is being set up in its halls. There is a speed limit on roads and highways. In the tourism sector, we want to promote healthy cycle tourism and transatlantic crossings by ship, among other things. We have all felt in the last few weeks how good breaks are for us - why not a two-week trip to America?
There are high costs that we can counter-finance. In the 1930s, the US government cushioned the crisis with the New Deal and thus prevented a drift into fascism, and we can repeat that with an EU-wide Green New Deal. First of all, we want to abolish all environmentally harmful subsidies, for example for aviation fuel; that saves around 60 billion euros in Germany alone. Second, we are rebuilding the financial system and introducing taxes on the wealthy; At that time, the super-rich paid up to 90 percent taxes at times. Third: Through an eco-social tax reform, we are lowering wage taxes and increasing taxes on resource consumption, including CO2.
Eco-social tax reform
We are also considering a comprehensive land reform. Rents in cities must remain affordable, the same applies to agricultural land prices. It is not understandable that people in late Roman decadence live on income without performance - to quote the late FDP leader Guido Westerwelle. He meant Hartz IV, but we now mean the capital funds and landowners.
Dear fellow citizens - I cordially invite you all to a new start in Germany. Yes, we can show solidarity!
Now is the best opportunity to stop the inhumane and anti-planetary economy and to found a true community of solidarity between humans and nature. I am firmly convinced that we need such visionary expansions of our thinking in order to realign our actions. Thank you.